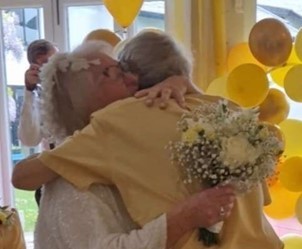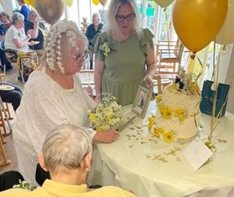 And what an incredibly special and emotional day it was.
This heart-wearing ceremony had a bright and cheerful yellow/gold theme, in honour of their golden anniversary, and a beautifully crafted Disney cake made especially for this Disney-loving couple.
Everyone was dressed to the nine's, but most beautiful of all was our bride, Lin, who went all out with a gorgeous laced wedding dress, complete with her original headdress from 1953. Bill was looking very dapper in his yellow shirt and tie, with the rest of the wedding party dressed to match.
We all felt very fortunate to be a part of this very special day, a day which was important for a lot of reasons, with the most important reason of all being love; a love shared between Bill and Lin which continues on in this life and the next.